Give a statue a voice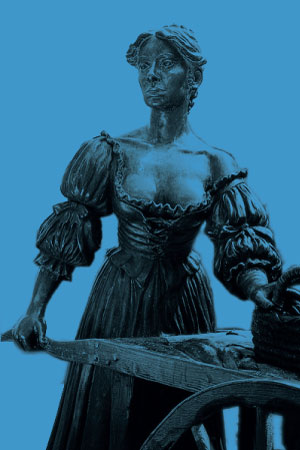 10 of the city's most famous statues have been given the gift of the gab. To hear them speak, swipe your phone on a nearby plaque and get a call back from Gabriel Byrne as James Joyce, or Brendan Gleeson as Wolfe Tone!
Two statues await the gift of speech - but what do they have to say for themselves? Write a short monologue - up to 300 words - to tell us what they're thinking! The winning pieces will be recorded by the Abbey Theatre and included as part of Talking Statues Dublin.
Molly Malone
Sculptor : Jeanne Rynhart
Suffolk Street
What does thoroughly modern Molly think about Dublin today? (And does she even like mussels?)
Apples and Atoms
Sculptor : Eilís O'Connell
Trinity College Dublin
How do these gravity-defying spheres feel about life, the universe and everything?
Send entries to competitions@talkingstatuesdublin.ie
Closing date: March 31st 2018
> Tips on how to write for a statue
> Competition Guidelines and Terms and Conditions