About Talking Statues Dublin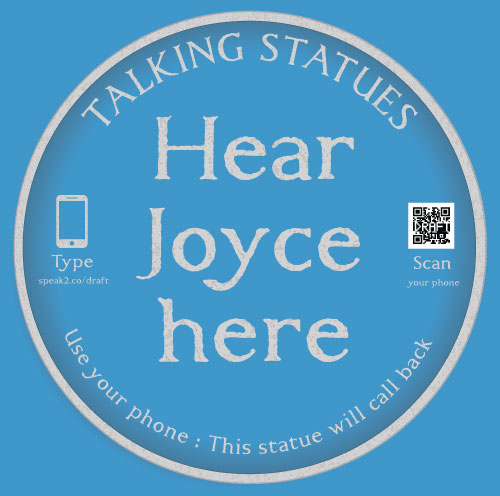 HOW TO HEAR A TALKING STATUE
Each Talking Statue has a blue plaque nearby.
Scan the QR code on the sign using your phone's QR reader or type the URL into your phone's web browser.
Press the green button that says 'Go!'
Your phone will ring.
Answer the call and the statue will talk!
10 of Dublin's most famous statues have been given the gift of the gab! Pass a Talking Statue, swipe your smartphone on a nearby plaque and presto, get a call back from James Joyce (written by Roddy Doyle and voiced by Gabriel Byrne), Oscar Wilde (written by John Banville and voiced by Andrew Scott), or Fidelity on the O'Connell Monument (written by Paula Meehan and voiced by Ruth Negga)! Each has a story to tell. Together, they tell Dublin's story.
Talking Statues Dublin has been funded by Fáilte Ireland, with additional support from Dublin City Council, An Post, the Abbey Theatre, Trinity College Dublin and Audible.co.uk. Arts producers Sing London have commissioned some of Ireland's most celebrated writers and actors to bring Dublin's statues to life.
Using drama, humour and location technology, Talking Statues breathes new life into the statues that surround us. Some approaches are dramatic, others comic and others flights of pure fantasy. All aim to persuade the public look at the statues with new eyes.
To hear the statues speak, just bring your phone and pay them a visit!
FIND OUT WHO'S TALKING WHERE